Beijing EXQUISITE International Development Co., Ltd.
We are upgrading the web, hope all friends will like it, welcome to send your kind comments.
Estamos actualizando la web, esperamos que a todos los amigos les guste, bienvenidos a enviar sus amables comentarios.
Web: http://www.exquisiteconveyorbelt.com/
We are designing the new technical sheet, will finish it this month, real new photos, words, PS, PDF, welcome to check our official web.

Estamos diseñando la nueva ficha técnica, la terminaremos este mes, nuevas fotos reales, palabras, PS, PDF, bienvenidos a consultar nuestra web oficial.
PVC PU belts: http://www.exquisiteconveyorbelt.com/
Rubber Belts: http://www.exquisiteintl.com/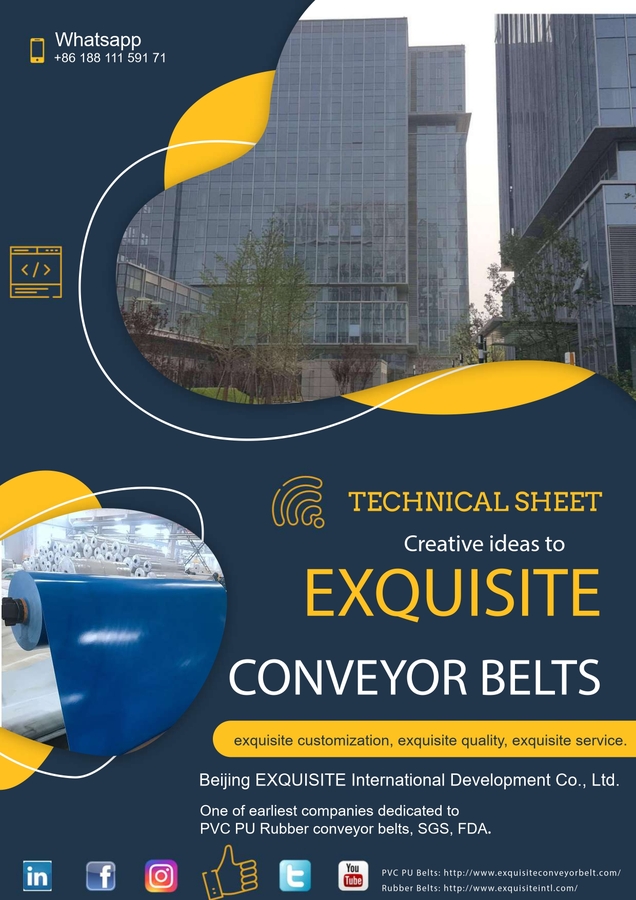 PVC Conveyor, PVC PU Rubber Conveyor Belt, Belt Conveyor, Conveyor Belting, Conveyor System, Material Handling, Bulk Materials Handling, Automation, Robot, AI, Wholesale, Retail, Producer, Manufacturer, Exporter, Supplier, China, Beijing, East Asia, Economy, Marketing, Strategy, MBA, Business School.
Transportador De PVC, Cinta transportadora De PVC PU Goma, Transportadora De Cinta, Sistema Transportador, Manejo De Materiales, Manipulación De Materiales A Granel, Automatización, Robot, AI, Venta Al Por Mayor, Venta Al Por Menor, Productor, Fabricante, Exportador, Proveedor, China, Pekín, Este de Asia, Economía, Comercialización, Estrategia, MBA, Escuela de Negocios.