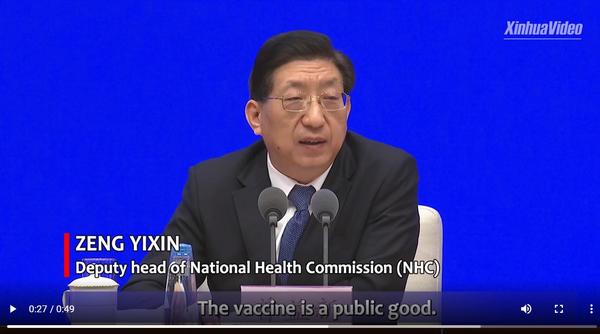 "This vaccine will be provided free of charge to all Chinese people," said Zeng Yixin, deputy head of the National Health Commission (NHC), at the press conference. Xinhua News.
We think it is the end time for COVID19, all people are suffering near whole year 2020, we wish every friend will recover from it!
"Esta vacuna se proporcionará gratuitamente a todos los chinos", dijo Zeng Yixin, subjefe de la Comisión Nacional de Salud, en la conferencia de prensa. Xinhua Noticias.
.

Creemos que es el momento de fin para COVID19, todas las personas están sufriendo cerca de todo el año 2020, ¡deseamos que cada amigo se recupere de él!
http://www.xinhuanet.com/english/2020-12/31/c_139633050.htm