EXQUISITE INTERNATIONAL PE conveyor belt:
High tensile strength, good bending, light and thin, oil resistance, non-toxic and hygienic, easy to clean. It satisfies the US FDA food hygiene standards, has good abrasion resistance and physical aging resistance, and is a durable conveyor belt.
EXQUISITE INTERNATIONAL Cinta transportadora de PE
Alta resistencia a la tracción, buena flexión, ligero y delgado, resistencia al aceite, no tóxico e higiénico, fácil de limpiar. Cumple con las normas de higiene alimentaria de la FDA de EE. UU., tienes buena resistencia a la abrasión y al envejecimiento físico, y es una cinta transportadora duradera.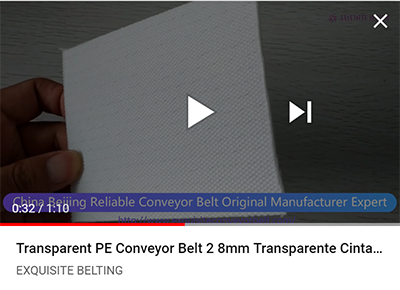 (*Youtube is invisible in China, please click the picture, watch it on Youtube*)
(* Youtube es invisible en China, por favor haga clic en la imagen, véala en Youtube *)