EP Polyester Conveyor Belt
Features
Good elasticity, high strength, impact-resistance, flexibility and trough ability, and limited elongation.

High modulus low shrinkage canvas, supplemented by advanced technology, elongation rate can be controlled under 1%, so the conveyor belt won't slid.

The specifical moulding device can ensure the equal tension of each canvas layer, it greatly extends the use life.

The adhesion between the layers extremely high can reach to 10 n/mm, which is much higher than the 4.5 standard requirement, and due to top-class material and advanced technology, the abrasion ratio is less than 180 mm³.
Application
It is suitable for medium and small block, granular, powdery objects, and transportation of materials with high speed, medium and long distance with impact. Metallurgy, steel plants, building materials and construction, energy, chemicals, machinery and ports.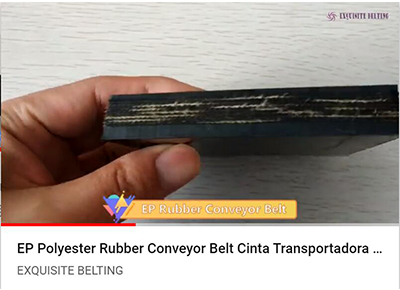 (*Youtube is invisible in China, please click the picture, watch it on Youtube*)
(* Youtube es invisible en China, por favor haga clic en la imagen, véala en Youtube *)
Cover Properties of the Belts
Cover Grade
Tensile Strength
Elongation
Abrasion

Change Rate of Tensile Strength

and Elongation after Aging

≥
≦
≦
Mpa
kgf/cm2
%
mm3
%
Heavy(H)
24
240
450
120
-25~+25
Medium(M)
18
180
400
100
-25~+25
Light(L)
15
150
350
200
-30~+30
Specification and Technical Data of Multi-ply Polyester Conveyor Belt
Fabric Type
Fabric Structure
Fabric
Ply Thickness (mm/P)
Strength Series(N/mm)
Cover Thickness (mm)
Width
Length
Warp
Weft
Specs
2 ply
3ply
4ply
5ply
6ply
Top
Bottom
mm
m
Polyester
Polyester
polyeter
EP-80
0.8
160
240
320
400
480
2.0~8
0~4.5
400~500
<=300
(EP)
(EP)
(EP)
EP-100
0.8
200
300
400
500
600






EP-125
0.85
250
375
500
625
750






EP-150
0.9
300
450
600
750
900






EP-160
0.9
320
480
640
800
960
500~2500






EP-200
1.05
400
600
800
1000
1200






EP-250
1.25
500
750
1000
1250
1500






EP-300
1.35
600
900
1200
1500
1800






EP-350
1.5
-
1050
1400
1750
2100
600~2500






EP-400
1.8
-
-
1600
2000
2400
600~2500






EP-500
2
-
-
2000
2500
3000