Our nylon belt with nylon film base is film base tensile layer, the outer layer of wear-resistant rubber or contact tanning leather.
The middle layer of high strength polyamide fabric with high strength, small elongation, flex good, smooth transmission, shock absorbffig cushion, friction coefficient, wear and oil resistance, anti-static, transmission efficiency and other characteristics.
Nuestra cinta de nailon con base de película de nailon es una capa de tracción de película, la capa exterior de caucho resistente al desgaste o cuero curtido por contacto.
La capa intermedia de tela de poliamida de alta resistencia, pequeño alargamiento, buena flexión, transmisión suave, amortiguador, coeficiente de fricción, resistencia al desgaste y al aceite, antiestático, eficiencia de transmisión y otras características.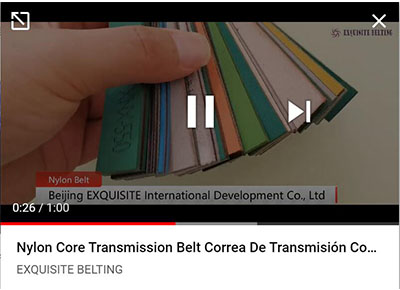 Nylon core transmission flat belts

Item

Thickness

Weight

Surface

Bottom

Tensile strength

1% Fixed elongation load (N/mm)

Minimum wheel

Temperature

Coefficient of friction with cast iron

Connection

(mm)

(Kg/m2)

(N/mm)

(mm)

(℃)

XDX-J-220

2.2

2.6

Green

Black

250

13

40

-20~+80

0.4~0.6

Teeth

XDX-J-300

3

3.6

Green

Black

300

20

100

-20~+80

0.4~0.6
Nylon core transmission flat belts - Elastic

Item

Thickness

Weight

Surface

Bottom

5% Fixed

elongation

load (N/mm)

Minimum

wheel

Temperature

Coefficient of

friction with cast

iron

Connection

(mm)

(Kg/m2)

(mm)

(℃)

XX-T-130

1.3

1.5

Green

Black

3

15

-20~+80

0.4~0.6

Teeth

XX-T-180

1.8

2.2

Green

Black

3.5

20

-20~+80

0.4~0.6
Technical Parameters

Items

Thickness

Weight

Surface

Bottom

Tensile strength

1% Fixed elongation load

Minimum wheel

Temperature

Coefficient of friction with cast iron

Width

mm

kg/m

2

Material

Color

Color

Material

N/mm

(N/mm)

mm

℃

mm

DND-100

1

1

D

Green

Green

D

90

3.5

35

-20~+90

0.2~0.3

0~800

XNX-100

1

1.1

X

Green

Yellow

Blue

Green

gray

Yellow

black

X

90

3.5

35

-20~+90

0.4~0.6

0~800

XNX-150

1.5

1.6

X

Green

Yellow

Blue

Green

gray

Yellow

black

X

165

5

50

-20~+90

0.4~0.6

0~800

XNX-200

2

2.2

X

Green

Yellow

Blue

Green

gray

Yellow

black

X

330

10

70

-20~+90

0.4~0.6

0~800

XNX-250

2.5

2.7

X

Green

Yellow

Blue

Green

gray

Yellow

black

X

340

10

90

-20~+90

0.4~0.6

0~800

XNX-300

3

3.3

X

Green

Yellow

Blue

Green

gray

Yellow

black

X

400

10

110

-20~+90

0.4~0.6

0~800

XNX-350

3.5

3.8

X

Green

Yellow

Blue

Green

gray

Yellow

black

X

410

12

150

-20~+90

0.4~0.6

0~800

XNX-400

4

4.4

X

Green

Yellow

Blue

Green

gray

Yellow

black

X

420

12

180

-20~+90

0.4~0.6

0~800

XNX-500

5

5.5

X

Green

Yellow

Blue

Green

gray

Yellow

black

X

500

20

200

-20~+90

0.4~0.6

0~800

PNP-450

4.5

4.3

P

Green ash

Green ash

P

400

10

150

-10~+80

0.6~0.8

0~400

PNP-600

6

5.8

P

Green ash

Green ash

P

500

20

200

-10~+80

0.6~0.8

0~400

PNX-400

4

4.2

P

Green ash

Green

X

410

12

150

-10~+80

0.6~0.8

0~400

PNX-500

5

5.3

P

Green ash

Green

X

510

20

200

-10~+80

0.6~0.8

0~400