Logistics Black PVK Conveyor Belt Thickness 3.0mm
Logistics PVK Conveyor Belt Thickness 3mm


LogísticoCinta transportadora de PVK Espesor 3mm

LogísticaCorreia Transportadora PVK Espessura 3mm

Logistique Convoyeur à courroie PVK épaisseur 3mm

Logistisch PVK Fördergurte 3mm

логистический Ленты конвейерные PVK (ПВХ) толщина 3mm

الخدمات اللوجستيةحزام النقل PVK 3mm

لاجسٹک موٹائی کنویئر PVK 3mm

โลจิสติก สาย พาน ลำ เลียง PVK 3MM

Hậu cần Băng tải PVK bề dầy 3mm

Lojistik PVK konveyör bant kalınlık 3mm

물류 PVK 컨 베이어 벨트 두께 3mm

Lojistik Penghantar Tali Pinggang PVK Ketebalan 3mm

物流 PVK 搬送コンベヤベルト 厚さ3mm

পণ্য সরবরাহ PVKপরিবাহক বেল্ট 3mm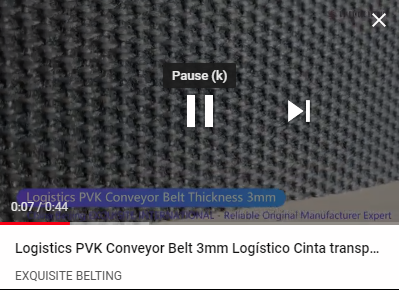 (*Youtube is invisible in China, please click the picture, watch it on Youtube*)
(* Youtube es invisible en China, por favor haga clic en la imagen, véala en Youtube *)
PVK conveyor belt is made of cotton fabric. The cotton fabric is a three dimensional knitted core fabric that is impregnated with PVK slurry. This processing method does not cause dangers of layering.
The PVK conveyor belt has flame retardant properties. At the same time, it also has high abrasion resistance and cut resistance, and has a longer service life than ordinary PVC conveyor belt. It is suitable for long distance transportation industries such as logistics, airports, express delivery, and postal services.
EXQUISITE International PVK conveyor belt thickness: 3.0mm ~ 6.0mm, customized production available.
Thickness (mm)

Color

Pattern

Coating Type

Coating Hardness (Shore A)

1% Elongation (N/mm)

Minimum Wheel Diameter (mm)

Conveying Method

Characteristics

4.0

Black

Impregnated Cloth

Ordinary PVK

85

14

Forward 100, Inverted 140

Flat Plate,

Roller

Flame Retardant
La cinta transportadora PVK está hecha de tela de algodón. La tela de algodón es una tela tricotado de núcleo tricotado que se impregnada con suspensión de PVK.
Este método de procesamiento no causa peligros de estratificación. La cinta transportadora PVK tiene propiedades ignífugas.
Al mismo tiempo, también tiene una alta resistencia a la abrasión y al corte, y tiene una vida útil más larga que la cinta transportadora de PVC normal.
Es adecuado para industrias de transporte de larga distancia como logística, aeropuertos, entrega urgente y servicios postales.
EXQUISITO International espesor de cinta transportadora de PVK: 3 mm ~ 6 mm, producción personalizada disponible.
Espesor(mm)

Color

Patrón

Tipo de Recubrimiento

Dureza del Recubrimiento (Shore A)

1% de Alargamiento (N/mm)

Diámetro Mínimo de la Rueda (mm)

Método de Transporte

Características

4.0

Negra

Tela Impregnada

OrdinariaPVK

85

14

Adelante 100, Invertido 140

Placa Plana,

Rodillo,

Retardante de Llama