CGTN News: Amazon CEO Jeff Bezos quits to become executive chair!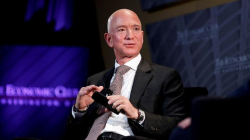 He says: If you're looking at everything for the next three years, there are a lot of competitors, but if you're looking at the next seven years, there's very little people who can compete with you. Because few companies are willing to make such long-term plans!
CGTN Noticias: ¡El CEO de Amazon, Jeff Bezos renuncia a convertirse en presidente ejecutivo!
Dice: Si estás mirando todo durante los próximos tres años, hay muchos competidores, pero si estás mirando los próximos siete años, hay muy poca gente que puede competir contigo. ¡Porque pocas empresas están dispuestas a hacer planes a largo plazo!
https://news.cgtn.com/news/2021-02-03/Amazon-CEO-Jeff-Bezos-quits-CEO-to-become-executive-chair-XzrGZuS7Yc/index.html